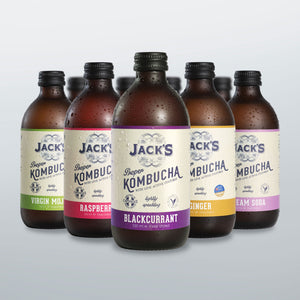 Tasting Case of 12 - Jack's Original, Raspberry, Ginger, Virgin Mojito (Lime & Mint), Masala Chai, Blackcurrant
£40.20

£40.20
Tax included.
Shipping
calculated at checkout.
---
---
 Order your first tasting case of the UK's best selling Cornish kombucha.
Enjoy 12 X 330 ml bottles of Cornwall's finest, kombucha in our 6 most popular, all-natural flavours...
2 x Original*

2 x Ginger*
2 x Raspberry*
2 x Virgin Mojito (Lime & Mint)
2 X Blackcurrant 
2 X Masala Chai
*Gold winner - Taste of the West Awards 2022

5 star customer reviews
"Jack's Kombucha has got depth and clarity of flavour like no other. Made with care, passion and masterful brewing...it's the real deal."

Will Ritson, professional taster.
Jack's Kombucha is made in Cornwall, using traditional methods and only 100% natural ingredients. Every bottle of this full-flavoured, artisan drink is bursting with live cultures - a proper kombucha drinking experience.
This lightly sparkling, enlivening drink is vegan and gluten free too. Naturally lower in sugar and well balanced, it delivers complex layers of flavour and a tart, clean finish making it a satisfying, full flavoured, feel good alternative if you're not drinking.
With only natural, whole ingredients, all Jack's Kombucha varieties are made with an infusion of filtered Cornish water and fairly traded, organic single estate green and black tea with a little organic cane sugar, our exclusive kombucha cultures, natural flavours - and nothing else!
> Lightly sparkling and refreshing
> Brimming with live, active cultures
> Naturally lower in sugar than ginger beer or other soft drinks
> A satisfying, full flavoured, feel good alternative if you're not drinking
> Unpasteurised giving you a fuller flavour and active cultures
> All natural, vegan and gluten-free
> Made with sustainably sourced fair trade, organic and permacultured ingredients.
FLAVOUR NOTES:
Each of our 100% natural, authentic kombucha drinks gives a light sparkle, a satisfying full-mouth feel, complex layers of flavour and a clean, tart finish...
Original (TASTE OF THE WEST GOLD AWARD WINNER)
Open a bottle and voyage to the island of Sao Miguel in the Azores as you savour the blended green and black teas grown in the balmy air of the Atlantic Ocean's gulf stream as it makes its way to Cornish shores. This refined kombucha complements a wide range of foods. Great with Asian and Indian fusion cuisine. Try it with oysters or really good fish and chips.
Raspberry (TASTE OF THE WEST GOLD AWARD WINNER)

This rosy nectar looks beautiful in a flute.
Floral, fruity and well balanced, subtle layers of flavour with a slightly tart finish. Pairs well with any food where a good Rose wine would be a natural choice.
Ginger (TASTE OF THE WEST GOLD AWARD WINNER)

Gently invert before serving. Great with a sprig of mint or slice of lime - lends itself to creative mocktails. Earthy, slightly citrus, spicy notes, a delightful warming sensation and complex layers of flavour. Pairs well with spicy dishes.
Lime & Mint
Infused with fresh mint and made with organic lime juice, this kombucha twist on a classic is going to transport you to Havana flavour heaven. It makes for a versatile mixer, base for a mocktail or as a super refreshing healthy, hangover-free summer thirst quencher!
Cream Soda

'Summer holidays in a glass' - with a delightfully nostalgic hint of vanilla, our Cream Soda Kombucha is well balanced and pleasantly refreshing. We use the best vanilla available to us to give to you this throw back thirst quencher. With a refreshing tart characteristic - balanced perfectly by mellow vanilla notes - and complex layers of fermented flavour, this one's bound to hit the spot. 

Blackcurrant
This Summer's Seasonal Special, available for a limited time. Using whole organic blackcurrants. Flavoured in keg using nothing but the whole fruit, this is a superbly refreshing and tart bottle of kombucha! 
As with all our drinks, best served chilled. 
100% NATURAL INGREDIENTS:
tea infusion (filtered Cornish water, organic fair trade cane sugar, single estate, organic, fair trade green & black tea), live cultures, plus 100% natural flavour as per the product title.
NUTRITION PER 100ml:
Energy 92KJ / 22KCAL
Fat 0.1g (saturates 0g)
Carbohydrates 4.1g (sugars 4g)
Protein 0.1g
Salt 0g
Unpasteurised product. Keeps chilled for up to 6 months. Use within 3 days of opening. Resealable bottle.

DELIVERY:
Our postage and packing is £5.99 to any UK mainland address for any quantity. Order two or more cases for free delivery. Please allow 3-5 working days for delivery.

Live in the Falmouth/Penryn area? Select the 'Pick Up' option - it's free.